Home > Restaurants&Bars> The Compass Rose
Notice of Temporary Change to Operating Hours for Hotel Restaurants & Spa
Hotel Smoke-free Policy Update
In our continuous efforts to provide you with the most comfortable experience in the hotel, all public areas including restaurants and bars will be smoke-free starting from September 1, 2019.
A dedicated outdoor smoking area (1F) will be available for smoking guests and please reach out to our associates for assistance.
We apologize for the inconvenience caused, and sincerely appreciate your understanding and support.
Sky Lounge The Compass Rose
The Compass Rose, with its subtly evocative atmosphere inspired by the age of epic voyages across the seven seas, lures guests to the top floor of The Westin Tokyo where its sky lounge offers stunning city vistas, sophisticated décor in dark wood, and chic yellow, blue and gold hues. Enjoy the rhythm of jazz and the sight of the glittering night lights of the Tokyo skyline accompanied by a refreshing cocktail or craft gin or top-shelf brandy or vodka straight from the bar for a stylish night out.

Enthusiastic reviewers say it is worth ordering a cocktail just to see our bartenders demonstrate their unique skills in spinning ice while preparing a drink. Sumptuous food options include light snacks and sweets for the bites that best accompany your choice of beverages.

Located high above the city on our 22nd floor, our sky bar at The Westin Tokyo consists of various configurations of small tables, armchairs, and sofas, in addition to a counter to seat a group of 10. After 5pm, a table charge of 1,000 JPY applies for each person not registered as a hotel guest.
Tel: 03-5423-7283
Seasonal Menu
Valentine's Day Cocktail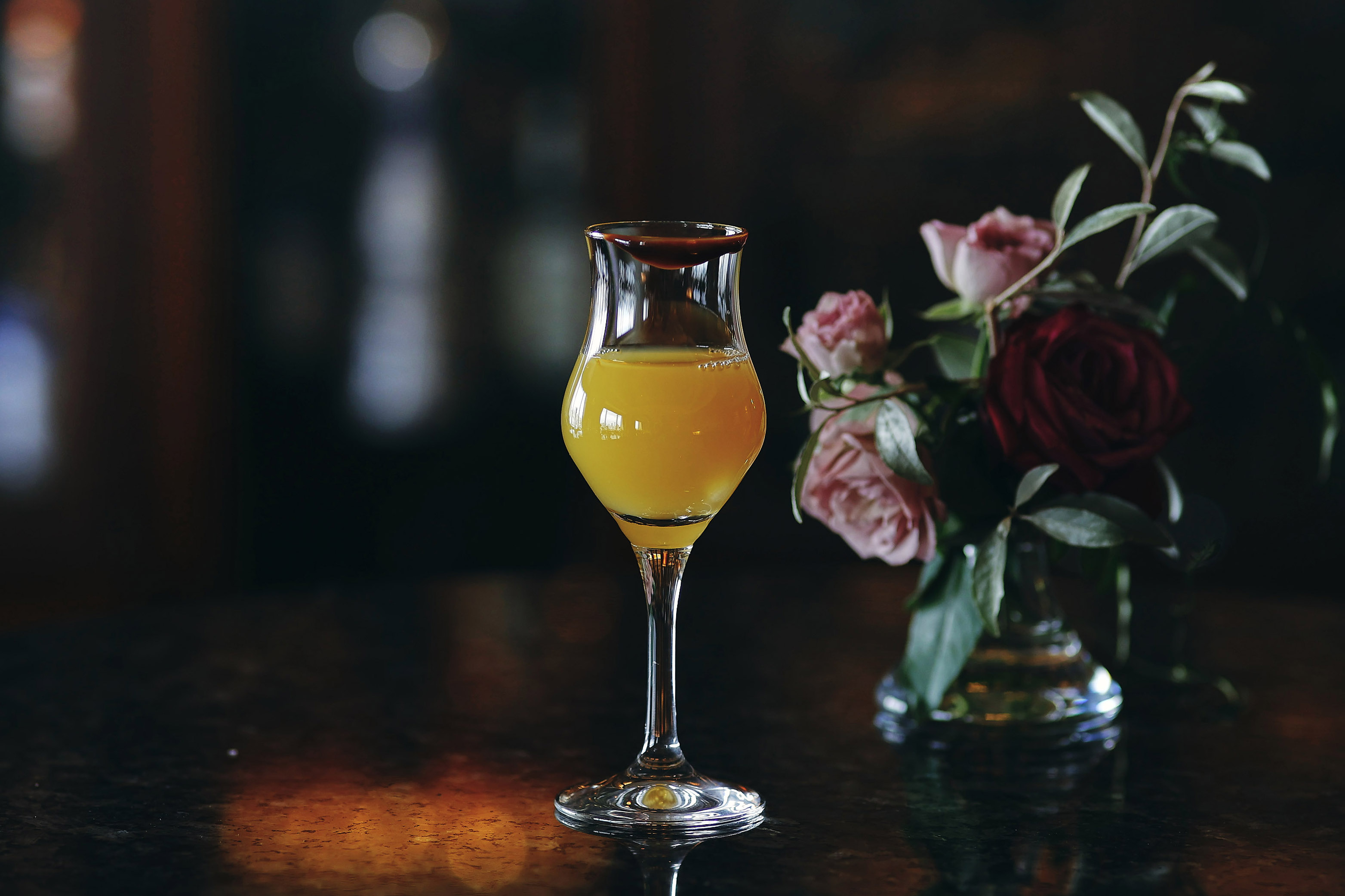 Feb 2 (Thu) ~ Feb 12, 2023 (Sun)
Inspired by Orangette, a sweet treat combining dark chocolate and orange, this aromatic Valentine's cocktail is crafted with Kagoshima Komasa Sakurajima Komikan Mandarin craft gin perfectly accented with a hint of chocolate for the perfect date night cocktail.
Price: 2,000 JPY
Reserve now: 03-5423-7283
MARRIOTT JAPAN COCKTAIL COMPETITION AWARD COCKTAILS
- Dec 31, 2023 (Sun)
Enjoy the line-up of winning cocktails from Marriott Japan Cocktail Competition crafted by talented associates from Marriott International hotels across Japan.
Under the theme of "Go Local", all masterpieces are crafted with Suntory Japanese Craft Gin ROKU 6 and ingredients represent the four seasons of Japan and the locality of the region where each hotel is located.

Komachi no Niwa: 2,400JPY
Champion - The Ritz Carlton Nikko The Lobby Lounge & The Bar Anjan Khadka
Rikyu: 2,200JPY
Award Cocktail - W Osaka Culinary Pastry Junpei Fujiwara
Reserve now: 03-5423-7283
Hanakirari – Connecting Flower of Hearts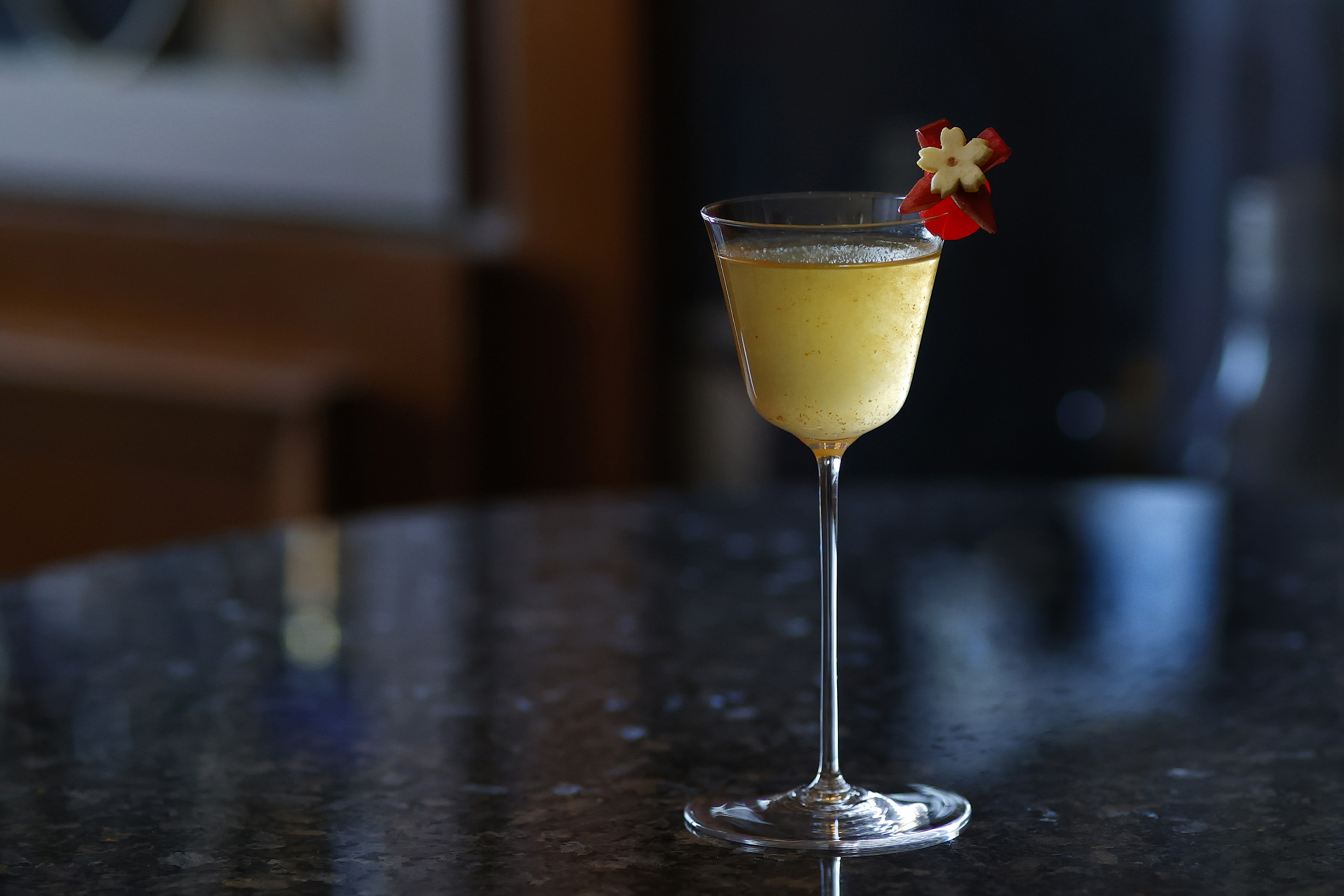 It's with great honor to share our star bartender Rina Kawaida from Compass Rose won the Grand Champion of the 11th HBA Junior Cocktail Competition KIRIN CUP 2022 amongst all participating top hotel bartenders across Japan.
Crafted with the hope of bringing smiles to the faces of people around the world, the winning cocktail "Hanakirari"is symbolized by the budding bloom where people and hearts unite. Be sure to come and try out this exquisite cocktail featuring elegant and mellow notes of plums and apples perfectly matched with refreshing citrus flavors.
Price: 2,500 JPY
Reserve now: 03-5423-7283
Winter Cocktails
Jan 1 (Sun) ~ Feb 28, 2023 (Wed)
Treat yourself to our heartwarming hot winter cocktail lineup - enjoy the sweet yet tangy carbonated "Light Mojito", prepared with maple syrup and a touch of lime and mint; or dive into the "Hot Mojito Ginger" with an Asian twist featuring a spicy punch of fresh grated ginger, honey and lemon juice.
Price: 2,200 JPY
Reserve now: 03-5423-7283
Haute Couture Gin & Tonic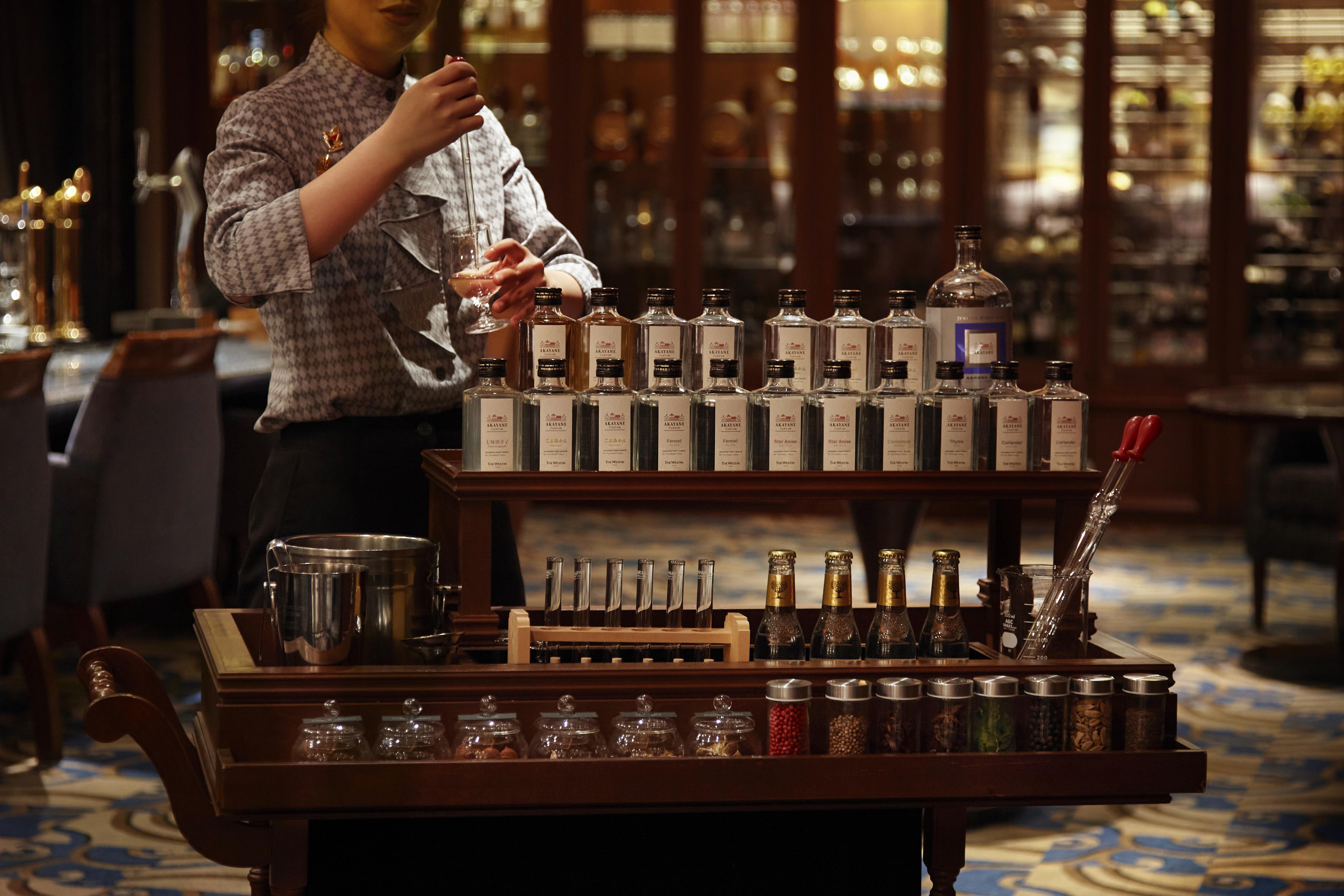 Create your one-of-a-kind craft Gin & Tonic with our special "Haute Couture Gin & Tonic" menu.
Choose your favorite botanical spirits from 10 different craft spirits from our gin wagon, including limited botanicals from our exclusive collaboration with "Sata Souji Shoten", a renowned distillery in Kagoshima prefecture. Cocktails crafted by our bartender are also available on request.
Price: 5,800 JPY
Reserve now: 03-5423-7283
Afternoon Set
Spend an elegant afternoon atop the hotel at The Compass Rose with a luxurious afternoon set featuring our original premium Yebisu Wagyu beef. Savour a luscious Yebisu steak sandwich featuring impeccable marbling and an exquisite dessert plate adorned with dainty seasonal sweets and your choice of beverage. Optional free-flow plan providing 12 kinds of soft drinks is also available.
Serving time: 15:00~17:00
Price: 3,500 JPY
12 kinds tea & soft drink free-flow plan: 1,000 JPY

*2 hours limit on free-flow plan. Last order is 30 minutes before ending time
Reserve online or by phone: 03-5423-7283
*Not applicable to special promotions or discounts
Classic American Sweets
America is known for its wide range of hearty and comforting desserts and now they are available at The Compass Rose for a limited time. Enjoy an enticing lineup of these delectable classics including Double Chocolate Muffins, Apple Crumble Tarts, American cookies and more, all crafted by our Executive Pastry Chef, together with siphon-brewed coffee and the breathtaking Tokyo skyline from the top floor of the hotel.
Cake Set: 2,200JPY
Tart Set: 2,400JPY
Reserve now: 03-5423-7283
INFORMATION
The Compass Rose
Atmosphere: Romantic and Sophisticated
Dress Code: Business Formal
Smoking Permitted: No
All prices are inclusive of tax and service charge.
*Exception: smoking is not allowed during 2pm ~ 5pm on weekends and holidays
Hours: View operating hour details
Children under 18 years old are only allowed in The Compass Rose until 18:00.
Phone: 03-5423-7283
Marriott Bonvoy Restaurants + Bars Benefits
Join our free Marriott Bonvoy® membership to earn points whenever you dine at participating restaurants and bars.

0